Trupanion (TRUP) sells pet health insurance in the US and Canada. Pet insurance in North America is still very small, with penetration rates just over 1%. I believe this industry has decades of growth ahead of it and that Trupanion will be a major beneficiary of that growth. They are already the second largest pet insurer in North America, but more importantly, they have been growing faster than the overall industry the past several years. Taking market share in an industry with a very long runway for growth is a great combination. Finally, I believe they'll be able to maintain this competitive position because of their unique marketing strategy.
Trupanion's marketing strategy is to use territory partners (salespeople) to directly call on veterinarians and build relationships with them. Once they get a head vet's buy-in, that vet will start pushing Trupanion's insurance plans to their pet owner clients. Pet owners generally trust their vet on things related to pet care so if their vet recommends Trupanion, that's who they'll sign up for. Trupanion's competitors have a variety of marketing strategies (business to business via corporate benefit programs, selling to shelters, online, direct to consumer), but none have the salesforce that Trupanion does. Trupanion has over 100 territory partners and based on LinkedIn research, none of their competitors have more than thirty and almost all have fewer than ten.
A territory partner's ultimate goal is to get a veterinarian to sign up for Trupanion Express. This is a software program that ties directly into the vet's management system and allows Trupanion to pay insurance claims directly and instantaneously to the vet. Once a vet finishes an operation, they submit the claim through Express and within five minutes they receive a direct deposit to cover the claim. Fewer than 20% of Trupanion's active vets are currently using Express, but their goal is to eventually convert 90% of them. I believe they'll have continued success rolling out Express to more vets because it is a true win-win-win for all parties involved.
On the vet and pet owner side, the biggest benefit is that the vet is now paid directly by Trupanion. This means the pet owner doesn't have to pay the bill upfront and wait weeks for the claim to be processed. Direct payment from Trupanion also increases the chances of a pet owner bringing their pet into the vet for accidents and illnesses because they know that 90% of their bill will be paid for. This also means the most expensive (and often best) operations will rarely be turned down, which is obviously beneficial to the pet's health and the vet who will make more money. All this adds up to dog owners with insurance spending 29% more per year on vet care than pet owners without insurance.
Economic euthanasia (putting a pet down because treatment is too expensive) will also be less of a thing because the pet owner doesn't have to front the money for large bills. In 2016, the average cost of an operation where the pet owner decided to euthanize the pet instead of doing the operation was $1,433. In addition, the entire process is now paperless and the vet never has to put pet owners on payment plans for expensive operations (which of course results in some percentage of those amounts never being paid).
Finally, the vet doesn't have to pay for credit card fees when Trupanion directly deposits money into their account as opposed to the pet owner paying with their credit card. This will save the vet 2-3% on every invoice paid through Express. So the vet makes more money via fewer credit card fees, pet owners coming in more, and expensive operations not being turned down as often. The pet owner doesn't have to front the money for procedures and they don't have to worry about what the best pet care will cost.
On the other side, Trupanion gets a sticky customer once the Express software is installed and the vet's staff is trained how to use it. A vet will be less likely to promote other insurers when the entire staff is familiar with Trupanion Express. Vets who realize they make more money by using Express will be more likely to push Trupanion as their preferred pet insurance, essentially becoming salespeople for Trupanion. More software integration with the vets will also give Trupanion better statistics and ultimately allow them to improve their pricing.
Trupanion's growth strategy to date has been to get as many vets introduced to Trupanion as possible. Some companies call this strategy land and expand – grab a bunch of land while a new industry is evolving and later focus on growing that land. I think this is a smart strategy by them. These vets should become very sticky customers once they buy in to Trupanion (especially if they install Express) so building relationships with as many vets as possible right now should pay dividends down the line. Trupanion is now starting to enter the second phase of the land and expand. Right now they only average around one new pet per month per active hospital, but they want to focus more on growing same store sales going forward.
Industry overview
The overall pet industry is notorious for being one of the most recession resistant industries out there. This is because of how many people view their pets as their children. And any adult would decrease their own consumption before potentially harming one of their loved ones. Look at virtually any chart for historical pet industry growth and it looks something like the one below. The pet care industry cruised right through the financial collapse.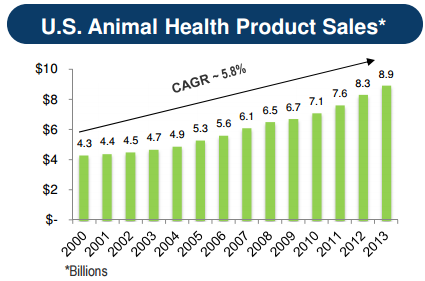 Within the broad pet industry, pet health insurance has been growing 12-22% per year the past several years. Given Trupanion's revenue growth has been over 25% for every year that we have public financials, that would suggest they've been growing faster than the overall industry (to put another way, they're taking market share from others). At year-end 2016, there were 1.82 million pets insured in North America. At that point, Trupanion had 323,000 subscription pets enrolled, giving them a 17.8% market share. Whether you look at gross premiums written or pets enrolled, Trupanion appears to be growing faster than the overall market on both measures every year. Below are my estimates for their market share growth.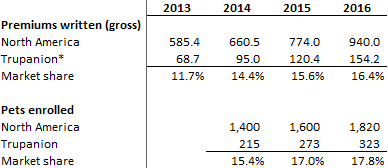 * 2016 actual. 2013-2015 estimated based on their revenue growth. All North America numbers come from NAPHIA's yearly reports. Premiums written numbers in millions. Pets enrolled numbers in thousands.
This tangible addressable market that Trupanion is focusing on is quite significant in size. Below is how I calculate the market potential:
177 million pets in North America
* $50 average revenue per pet per month
* 12 months in a year
= $106.2 billion
But that assumes 100% penetration which will never happen. Western Europe has had pet insurance much longer than North America and their penetration rates range from 5-40%, so let's assume that's where the North American market will peak. Between 5% and 40% of $106.2 billion is a total eventual market of between $5.3 billion and $42.4 billion. That is quite significant potential for a current market that is less than $1 billion.
Another major trend in the industry is corporate entities rolling up independent vets. We'll see how it plays out, but this could potentially be a good thing for Trupanion if they can get exclusive relationships with some of these large roll-ups. Trupanion has already started to do this with their VCA Inc (WOOF) deal. VCA owns 800 animal hospitals across North America and chose Trupanion as their exclusive insurance provider. VCA's 800 stores account for almost 3% of the entire vet hospital population, so it's a pretty meaningful deal. And as VCA buys more hospitals, this is free additional business for Trupanion. If Trupanion got relationships with the other corporate roll-ups, the business would almost take care of itself. VCA will also be installing Trupanion Express across all their stores in late 2017 and 2018. Trupanion handling all the pet insurance and having their software installed at those 800 hospitals makes for a very sticky customer relationship. I imagine changing insurance providers in 800 locations is much more difficult than changing it in one independent location.
Tailwinds
The biggest tailwind for the pet insurance industry is that the cost of pet healthcare has been increasing at a rate that's even faster than the cost of human healthcare. Pet care has more than doubled since 2000, which is equivalent to a rate of around 4.5% per year. One reason for this increase is that many human treatments have been ported over to animal care – things like MRIs, transplants, chemotherapy, and CAT scans (pun not intended). These are expensive treatments that help pets live longer, but also result in old age health problems that pets never used to get. Dementia has now become a growing problem in dogs because they're living longer. It also seems like the average American feeds their pet about as well as they feed themselves. The rate of pet obesity and diabetes have been increasing at alarming rates the past ten years, which has obviously required more pet care.
The North American Pet Health Insurance Association (NAPHIA) yearly reports show that average premiums have increased between 1% and 9% the past several years, lining up with the 4.5% average from above. Trupanion management has said they expect the cost of vet care to increase 5-6% per year for the foreseeable future. Given Trupanion prices their insurance on their estimate of the lifetime cost of a specific pet and simply adds 30% to that, I think this constant increase of pet care cost gives them pricing power. If they are able to continue raising their premiums at the same rate as pet care, they won't feel the negative effects of inflation like many businesses do.
Competition
There are around fifteen pet insurance companies in North America, but most of these are small. The largest competitors appear to be Nationwide Pet Insurance, Pethealth, Petplan, and Healthy Paws. To my knowledge, none of these competitors have a software package similar to Trupanion Express. All of them use a traditional insurance model where the pet owner pays for the treatment upfront, submits a claim to the insurer, and has to wait a couple weeks to find out if the claim is approved and to receive their claim check. Trupanion also appears to be the only pet insurer with a nationwide salesforce. Based on LinkedIn, Trupanion has over 100 territory partners while Nationwide appears to have around thirty, Pethealth has around twenty, and the rest have less than ten. It's also important to note that all of Trupanion's competitors are either private or small subsidiaries of large public companies, so information is sparse.
One structural difference between Trupanion and many of their competitors is that Trupanion owns their own underwriter (this is the company that actually prices the insurance, most pet insurers use a third party). One of Trupanion's competitors, Pet's Best, actually pays Trupanion to handle their underwriting for them. Trupanion takes 8-10% off the top to do this. Assuming 8-10% is industry standard, that is an expense that Trupanion doesn't have to pay to a third party underwriter. On the other hand, being their own underwriter means they have to reserve more capital and handle the overhead of that subsidiary, but it's still a net cost savings. Interestingly, almost all of their competitors point this out as a negative on Trupanion's part, saying that their underwriter is less capitalized and not as well rated as whatever large third party underwriter that competitor uses. I'd prefer the cost structure advantage and having an underwriter that is 100% focused on pets though. I'm betting this is one reason Trupanion is able to have much higher loss ratios than all their competitors. If you aren't familiar with a medical loss ratio, it is the percentage of an insurer's revenue that they give back to their clients via claims paid. An insurer that has a higher loss ratio is generally a better deal for the client.
Nationwide Pet Insurance was the first pet insurer in North America, starting out in 1982 as Veterinary Pet Insurance. Nationwide was their underwriter from the beginning and purchased them in 2008. Their strategy seems to focus on corporate benefit packages, as one in three Fortune 500 companies offers Nationwide pet insurance as a voluntary benefit for their employees. Nationwide offers a 5% discount for these corporate programs. It's important to note that Nationwide has payout caps for all their plans. This is bad for the pet owner (if your dog needs a really expensive surgery or has a couple major accidents in one year you're screwed) and bad for the vet (they won't get to do the most expensive treatments that may be necessary to save a pet).
While Nationwide remains the largest insurer in North America, it appears their growth has slowed down tremendously. They surpassed 500,000 pets insured near the end of 2013, but their current LinkedIn profile says they insure "more than 550,000" pets. Given they post to LinkedIn every couple days, I'd assume that profile has been updated at least within the past year. Assuming those numbers are accurate, that only amounts to 10% growth in three+ years. As a comparison, Trupanion went from 182,000 pets at year-end 2013 to 344,000 at year-end 2016 – equivalent to 89% growth.
Pethealth was a public company until 2014 when they were purchased by Fairfax Financial (FFH.TO). In Pethealth's old annual information forms, they estimated their market share in 2010 at 11% and 2013 at 10%. I actually estimate their market share fell to 7-8% in 2013, but either way their market share was shrinking. 2013 is the only year where both Pethealth and Trupanion overlap with public financials. In that year, Trupanion had a little under 12% market share and grew revenue by 51%, while Pethealth only grew 12%. While they were public, Pethealth's loss ratio was in the 40-50% range, which is ridiculously low and significantly worse value than Trupanion. Pethealth is involved in several other areas of the pet industry, including RFID microchips, shelter management software, and pet adoption. Their primary method of marketing appears to be through shelters where they offer a free month of pet insurance to adopted pets.
Petplan North America is the sister company to Petplan UK, which is one of the largest pet insurers in the world, so I'm sure having access to that database is a benefit. They are also the exclusive pet insurer of The Humane Society. I haven't been able to find much data on Petplan North America, other than some numbers from 2010 that insinuate they were around half the size of Trupanion at that time.
Healthy Paws is notable because it was started by Trupanion's old COO. Their marketing focus is clearly direct-to-consumer through online marketing and the many review websites. They are the highest ranked pet insurer on most sites and it doesn't appear they have any salespeople or territory partners on LinkedIn. Darryl estimated Healthy Paws grew $30 million in 2016, which is quite significant for a company that should be smaller than Trupanion. I've struggled to find data on just how big Healthy Paws is, but I suspect they and Trupanion are taking the most market share in the industry.
Management
Darryl Rawlings, CEO, founded the company in 1999 with his own money that he made from selling another company he started. His Trupanion equity is now worth over $50 million, which is more than 100x his 2016 cash compensation of $446k. If you're interested in the Trupanion story, I highly recommend reading the three annual shareholder letters he's written since they've been public. They are some of the most detailed and helpful shareholder letters I've seen. In these letters and elsewhere, I love that he is always talking about the long term. His presentation at the annual meeting had several slides dedicated to his 30-year goals for the company. That kind of thinking will trounce most companies that are only focused on quarterly and yearly numbers. I could say many good things about Darryl, but suffice to say he embodies a lot of the reasons I much prefer founders vs. hired managers (passion, long-term vision, high stock ownership, etc).
Bear case
Trupanion seems to get a decent amount of negative attention from investors, so I'm going to go through some of the common arguments I've heard, as well as issues that concern me.
Trupanion is a bad deal for their clients
If you're lucky, then yes, all insurance is a bad deal. If you get unlucky, insurance will save your life, house, car, or even your pet. Pet owners aren't "investing" in Trupanion's product expecting to get a positive return, they want to protect themselves from a $5,000 vet bill that could force them to euthanize their pet. That is very valuable to many pet owners. In gambler's parlance, insurance is voluntarily taking a bet with negative expectation to guarantee you don't lose a much larger amount in the future.
Management is deceptive in their reporting
If you read Darryl's annual letters, I can't imagine not coming to the conclusion that he's one of the more open CEOs out there today. At the annual meeting this year, the Trupanion team answered questions for two and a half hours and I don't think they once dodged or avoided a question. Many people have called out Darryl for not reporting as a traditional insurance company, but he addressed these concerns in his first shareholder letter:
"Our business model is a direct-to-consumer monthly subscription service and this is how we manage the business."
"We are cash-in/cash-out every month. We are not a company that makes money on the float. There are insurance companies that do that very well if you are looking for a return on equity type of investment in your portfolio."
"Discounted cash flow is how we internally view our long-term strategic choices. It is purely mathematical and although the inputs of terminal growth rates and weighted average cost of capital can move the valuation all over the chart, if you keep them constant, you can determine if your choices move the needle in the right direction.
Online reviews
If you do some online due diligence on Trupanion, you'll quickly realize they don't rank very high on many review websites. During the annual meeting Q&A, Darryl claimed that many of these review websites are pay-to-play and that Trupanion has historically not paid as much as their competitors for better rankings. Consumers Advocate is one of these review sites and they do say that premium placements are given to advertisers. On the page that ranks best pet insurance companies, Trupanion isn't even listed. However, if you go through the individual company pages and look at reviews, Trupanion has the second most reviews on the site and the second highest rating. I reached out to Consumers Advocate for a justification on this discrepancy, but they didn't want to talk to me. Unfortunately, most consumers wouldn't look into the rankings that closely, so it definitely creates a perception problem.
Darryl was asked about online reviews at the annual meeting and he brought up several things. First, he's well aware of the problem and it's going to be more of a focus going forward. To date, their efforts have been almost completely on getting vets to buy in to supporting Trupanion because they believe pet owners will trust their vet's opinion more than online reviews. Just as important, acquiring pets via territory partners and through vets is significantly less expensive than online direct-to-consumer. All the pet insurers do online advertising so the competition (and cost) is higher and thus the return on investment is lower. Trupanion also refuses to put up fake online reviews, which probably hasn't helped them. There are review sites where their smaller competitors have 2-4x as many reviews as Trupanion, which is a little suspicious. One way they've started to push more real and positive reviews is to include links asking for reviews when they send out claims to pet owners (who are almost certainly happy customers given 90% of their bill just got paid for).
Regulatory violations
There was a good Seeking Alpha write-up last year about Trupanion's run-in with California and Washington state regulators. The California one seems like a minor issue in my opinion (had to change their 30-day free trial certificates), but the Washington one is more concerning. Washington state fined Trupanion $150,000 for violating a whole bunch of state regulations, some of which don't appear to be a big deal (using Trupanion on documents instead of American Pet Insurance which is their underwriter subsidiary, storing some policies in email and not central servers, not accepting clients that don't have email addresses), while others look much worse (not cancelling policies in a timely manner, lack of department audit procedures, lack of standards for tracking customer complaints, not responding to the commission's requests in time, etc). Ultimately, $150,000 is a minor slap on the wrist so I can't assume these findings were egregious.
Many bears have also speculated that it's illegal for their territory partners to be operating without being licensed insurance agents. While I don't know the exact laws for all 50 states, my gut says there's a big difference between a territory partner trying to get a vet to support Trupanion vs. a more traditional insurance agent who sells life insurance directly to consumers. The territory partner never even interacts with the purchaser of the insurance (the pet owner) and the insurance policy isn't created until the pet owner signs up online or calls Trupanion. If the pet owner calls Trupanion to sign up, those customer service reps are licensed. From my understanding, it's also not a huge deal to get licensed as an agent. Each state is different, but you basically take a four-day class and have to pass a two-hour exam. Interestingly, the three or four territory partners that were at the annual meeting all said they had plans to get licensed just so they never have to worry about it.
Only the wealthy can afford pet insurance
At an average of ~$50 per month, Trupanion isn't cheap. And if they can never attract lower income pet owners, their tangible addressable market could be much smaller than previously estimated. Right now, over half of their clients are considered low to middle income, but they do have better conversion rates in high income areas. Darryl's main reason for wanting to eventually get to an 80% loss ratio is so that their insurance would be cheaper for the masses and an even better deal for pet owners. This is a common lifecycle for many products – only available to wealthier people at first and then it gets cheaper and moves down market over time. It's also important to remember that the industry is only 1% penetrated. Even if the poorest 30% of pet owners never buy pet insurance, the industry could still have plenty of runway for growth.
Loss ratio requirements
Right now the pet health insurance industry is relatively unregulated so it's possible the government comes in and mandates loss ratios in the future (like with human health insurance). Honestly, I don't know how to handicap the chance of this ever happening. From what I've gathered though, Trupanion operates with the highest loss ratio in the industry (70% vs. competitors at 40-60%). This means that government regulations would harm them the least and would probably put several of their competitors out of business. Darryl has also discussed several times his goal of getting to an 80% loss ratio at some point in the future once the business is bigger and benefits from more scale.
Pet health insurance has been around for 30 years, why isn't it bigger?
First off, it just takes a long time. Pet health insurance makes the most sense for puppies and kittens (both from an insurer and pet owner point of view). So if I have a six-year old dog and like the idea of pet insurance, there's a decent chance I'm not going to get it, but I will when I get a new puppy to replace my current one in ten years. Pets generally live 12-15 years so that forces a slowly evolving industry. When Darryl talks about industry penetration rates, he talks about it in 12-year cycles for this very reason. Sweden has the highest penetration rates in the world because pet insurance started there a hundred years ago (UK pet insurance has been around 40-50 years). It was interesting that the territory partner I went on a ride along with said she still occasionally runs into vets who don't know pet insurance exists. Of the majority that do know about it, many of them assume it's a nightmare like human health insurance so they're initially very closed off to the idea. This goes back to it being a very slow process to change an entire industry.
Second, pet insurance in North America has historically (and still is in many cases) been a much worse deal for pet owners. In the public data that I can find, pet insurance loss ratios (besides Trupanion) have remained in the 40-60% range for a long time. Given Healthy Paws' success and their founder coming from Trupanion, I wouldn't be surprised if their loss ratios are better, but the point still stands that Trupanion is a much better deal for pet owners than any insurance offering that came before them. Darryl claims this is because pet insurers historically built policies on what price they thought consumers could afford, but Trupanion (and now others) built what pet owners needed and worked backwards to price. This results in a higher quality offering with better coverage.
Too levered to the economy
As discussed in the industry overview, the pet care industry is notoriously resistant to recessions, but will this be the same for pet insurance? A legitimate argument can be made that pet owners will cancel their insurance during downturns and simply hope their dog or cat goes a year or two without any major problems. I asked Darryl what their monthly cancellation rates were during 2008-2010 and he said they hovered around 1.5% (similar to current cancellation rates), which is obviously a good sign. Another interesting data point is Alberta, which has been in a bad recession the past couple years thanks to the oil collapse. Trupanion's territory partner from Alberta was at the annual meeting and said her business continued to grow each of the past couple years. Her retention rates have remained high as well. Alberta is a more mature pet insurance market and she estimated that 10% of puppies and 4% of kittens get pet insurance (not just through Trupanion).
Finally, the only pure play pet insurer that was public during the financial collapse was Pethealth. After some adjustments for things like foreign exchange, it appears their insurance business was flat to slightly down during the collapse, compared to several years of 15-40% growth prior to that. So the recession clearly affected their business, but didn't kill it. All in all, I expect Trupanion will be more susceptible to downturns than pet food companies, but I don't expect them to be nearly as cyclical as a homebuilder or something like that.
No wellness plans
Most pet insurers offer wellness plans that cover regular check-ups, shots, etc. The thing is, an individual vet can offer a wellness plan just fine (and many do). Wellness basically takes the cost of two annual check-ups plus basic shots and spreads the cost over twelve months, which helps the pet owner budget for it. Pet insurers selling wellness plans just adds another layer of expenses, so it ends up being a worse deal for the client. Pet insurance (like what Trupanion offers) is different because unexpected accidents and illnesses can be thousands of dollars. Insurance only works when those expenses can be spread over tens or hundreds of thousands of pets, so it's not possible for individual vets to offer. Darryl has noted that even though most of their competitors offer wellness plans, all of the industry growth is in accident and illness coverage. Also, the Western European countries with higher penetration rates have very little to no wellness plans.
Capital requirements restrict growth
As an insurance company, Trupanion is required to set aside a certain amount of capital and this number increases as the company grows. If their revenue growth exceeds 30%, the capital requirements increase, so their goal is to grow 20-29% per year for the foreseeable future.
Insider selling
Darryl has set up a 10b5-1 plan to automatically sell 2% of his shares per year over a ten-year period (so he'll still own 80% of his shares when the plan ends). When he started the 10b5-1 plan he had 95% of his net worth in Trupanion so I don't blame him for wanting to diversify some – it's the smart thing to do. Not everyone is like Buffett who keeps 99% of his net worth in one company.
Valuation
Trupanion has a fairly bearish sentiment surrounding the stock. There are quite a few short write-ups posted on various websites and 21% of the float is short. I've brought Trupanion up to quite a few investors and the response is almost always "that's an insurance company selling for 15x book, they're way overvalued." My opinion is that a lot of people aren't appreciating how Express can affect their business and the industry moving forward. Express could create a very large moat around individual vet offices. Once Trupanion gets an Express install, they will get the majority of pet owners that purchase insurance at that vet. A vet that has their software tied into Trupanion and whose entire staff has been trained to use Express should be a very sticky customer. The point I'm trying to make is that companies are valued on estimated future cash flow and that's it, not book value. A company growing 20-30% per year with a legitimate competitive advantage in an industry that has a very long runway for growth doesn't deserve to sell for 1x book. I don't care if it's an insurance company or not.
With that out of the way, let's discuss what it could be worth. If they continue their pace of 20-30% growth per year, they should hit $1 billion in revenue somewhere in the 2023-2025 time frame. At that point, they'd be at scale targeting a 15% discretionary margin (per management). Discretionary margin doesn't include sales and marketing expense and stock-based comp. If sales and marketing margin is 3% at scale (vs. 7.9% in 2016) and stock-based comp is 1% at scale (vs. 1.5% in 2016), that puts pre-tax margins at 11% (15% – 3% – 1%). Ignoring net operating losses, they'd be paying 34% in taxes, which puts their net margin at 7.26% (11% * (1 – .34)).
So $1B revenue * 7.26% net margin = $72.6M net income / 35M shares outstanding (2% share dilution per year from now until then) = $2.07 EPS. $2.07 EPS * 25 (high quality company with plenty of runway still left) = $51.75. A $51.75 share price after 2025 earnings gives us a 10.2% IRR from today's $22.50 share price.
However, it's very possible they achieve the above in 2023 or 2024. It's also possible that 25x is too small of a multiple at that point in time. At year-end 2016 they had around 16-18% market share depending on how I measure it. Given they're growing faster than the industry, I think it's safe to assume they can approach 25% market share by the time they hit $1 billion in revenue. That means the entire North American pet insurance industry would be $4 billion and would put total pet insurance penetration between 4-6%. If you believe North American pet insurance will eventually have penetration rates of 25-40% (like the UK and Sweden), that means that even eight years from now the industry could still grow another 5-8x in total size. So if these things come true and the industry is still increasing penetration rates in 6-8 years, it's not hard to imagine Trupanion deserving a higher multiple than 25x (a leading company in an industry that still has 5x room for growth should be really expensive). The below chart shows the IRRs you could expect given my above assumptions, whether they hit those numbers in 2023, 2024, or 2025 and then whether the company deserves to sell for 25x, 35x, or 50x at that point in time.

One final valuation thing to consider is that high quality companies (which I obviously believe Trupanion to be) have more unknown upside optionality to them as opposed to low quality companies that have more unknown downside optionality to them. It's hard to throw a number on this (good example of why qualitative factors are more important than quantitative), but I think the chances of there being good surprises are more than the chances of there being bad surprises.
The best companies to invest in are ones that have high returns on incremental capital and have plenty of opportunities to keep reinvesting that capital for a long period of time. Their current IRRs on adding a single pet are around 30% and should scale to 40% over the next couple years. Darryl understands the power of this and intends to operate at roughly breakeven for the foreseeable future so that he can reinvest as much money as possible back into the business at 30-40% returns. Some of their capital has to go into reserves every year to meet regulatory capital requirements, but let's say they can reinvest 80-90% of their capital every year into new pets that generate 30-40% returns. That means their return on incremental capital going forward is between 24% and 36%. Even more incredible, it's possible they can compound reinvested capital at these rates for 20-30 years, depending on how long it takes this industry to reach maturity. If that turns out to be true, it's likely the stock returns are quite high as well. As Charlie Munger said,
Over the long term, it's hard for a stock to earn a much better return than the business which underlies it earns. If the business earns 6% on capital over 40 years and you hold it for that 40 years, you're not going to make much different than a 6% return—even if you originally buy it at a huge discount. Conversely, if a business earns 18% on capital over 20 or 30 years, even if you pay an expensive looking price, you'll end up with a fine result.
Ultimately, the above valuation can only be believed if you think Trupanion's strategy of focusing on vets is going to win out vs. their competitors who are focused on different marketing strategies. It is my belief that with Trupanion Express they are building a durable competitive advantage that will keep them from becoming just a commodity insurance company. Taking market share in an industry that is set to grow 10x+ over the coming decades is a pretty incredible position to be in. Valuation is where I keep struggling. Like I said, I think buying at today's price is more likely to yield a good result than a bad one (over a long holding period). And generally, when valuation is my only hold up I should just shut up and buy the stock because, in my opinion, business quality is more important than valuation. However, I'm still undecided on this one…
Disclosure: I/we have no positions in any stocks mentioned, and no plans to initiate any positions within the next 72 hours.
I wrote this article myself, and it expresses my own opinions. I am not receiving compensation for it (other than from Seeking Alpha). I have no business relationship with any company whose stock is mentioned in this article.