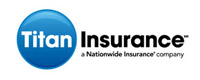 Quick Links

Titan, a leading discount car insurance company, is affiliated with Nationwide, one of the largest insurance and financial services companies in the world.
With Titan, you'll get helpful customer service, local agents and great auto insurance for as little as $1 a day. Titan also accommodates high-risk drivers who may have had multiple tickets, excessive points, at-fault accidents, a DUI, are a teenager or may have had a lapse in coverage.
Nationwide Group, including its Titan subsidiary, claimed 3.85 percent of the private passenger auto insurance market as of June 2015, the most recent data available from data analyst A.M. Best. That makes it the eighth-largest auto insurance carrier among the more than 1,400 tracked by Best.
What would make Titan customers switch?
We surveyed more than 4,000 auto insurance customers about how much they would need to save before switching from their insurance companies.
3% of surveyed Titan customers say they would never switch auto insurance companies (average of 20 major companies: 10%)
97% said they would switch if savings were $1,000 or more (average: 90%)
94% would switch for savings of $500 or less (average: 83%)
61% would switch for savings of $250 or less (average: 63%)
11% would switch for savings of $100 or less (average: 30%)
Types of coverage available from Titan
Offerings can vary by state.
Titan auto insurance discounts
Offerings can vary by state. Some features may be optional.
Multiple-car discount: Save when you insure multiple cars with Titan.
Accident-free discount: Save on your premium when you stay accident free.
Good student discount: Savings is available to students who do well in school.
Association membership: If you or your spouse are active members of an organization recognized by Titan, you may be eligible for an insurance discount.
Military discount: Members of the military may qualify for lower car insurance rates.
Anti-theft device discount: Anti-theft devices reduce your risk of car theft and can lower your insurance premium.
Anti-lock brakes (ABS) discount: You may qualify for a discount if your vehicle is equipped with anti-lock brakes.
Prior carrier discount: You may receive a discount if you were covered by standard auto insurance before coming to Titan.
Homeowner discount: Being a how homeowner may qualify you for discounted auto insurance.
Advance quote: Get an insurance quote eight or more days before your current active policy expires to be eligible for this discount.
Motor vehicle safety course discount: Take a refresher course on the rules of the road and receive a discount.
Air bag discount: Driving a car equipped with air bags and other safety features could lower your insurance premium.
Farm use discount: Agricultural vehicles may be eligible for discount auto insurance.
Travelink discount: This discount applies only to collision coverage and a vehicle that is individually owned by an employee whose employer is participating in an approved traffic mitigation program. Annual recertification is required.
Electronic funds transfer (EFT): Paying your monthly auto insurance bill electronically could lower your premium.
Mature driver discount: Experienced drivers may qualify for discount auto insurance. 
Titan claims and contact information
Website: Titan.com
Claims telephone number: 1-800-926-3168
Twitter: @TitanUpAuto
Facebook: https://www.facebook.com/titaninsurance
Mobile app: https://www.titan.com/download-titan-mobile-app.jsp
Not all companies/options/discounts available in all states/situations. This description is an example and is subject to change. Verify all details before purchase. Logos, trademarks and service marks are owned by the respective companies represented on this web page.