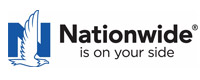 Quick Links

Over the last 85 years, Nationwide has grown from a small mutual auto insurer owned by policyholders to one of the largest insurance and financial services companies in the world. Nationwide is still owned by policyholders but protects a lot more than just autos owned by Ohio farmers, offering a full range of insurance and financial services across the country, including car, motorcycle, boat, homeowners, pet, farm, life and commercial insurance.
Nationwide Group and its subsidiaries claimed 3.85 percent of the private passenger auto insurance market as of June 2015, the most recent data available from data analyst A.M. Best. That makes it the eighth-largest auto insurance carrier among the more than 1,400 tracked by Best.
What would make Nationwide customers switch?
We surveyed more than 4,000 auto insurance customers about how much they would need to save before switching from their insurance companies.
14% of surveyed Nationwide customers say they would never switch auto insurance companies (average of 20 major companies: 10%)
86% said they would switch if savings were $1,000 or more (average: 90%)
80% would switch for savings of $500 or less (average: 83%)
63% would switch for savings of $250 or less (average: 63%)
33% would switch for savings of $100 or less (average: 30%)
Types of coverage available from Nationwide
Offerings can vary by state.
Auto
Pay-as-you-drive plan: SmartRide
Motorcycle
Scooter
Classic car
Homeowners
Renters
Condominium
Boat
RV
Umbrella liability
Nationwide auto insurance discounts
Offerings can vary by state. Some features may be optional.
Multi-policy discount: Save up to 25 percent when you bundle your home, auto, life and more with Nationwide.
Nationwide family plan:  Anyone living with you can receive the same discounts and benefits you're entitled to and could save up to 25 percent.
Homeowner promise:  Save up to 5 percent if you promise to insure your home with Nationwide within a year.
Safe driver/accident-free discount: Save up to 10 percent if you have at least five years of safe driving, meaning a record free of at-fault accidents and major violations.
Good student discount:  A discount of up to 15 percent is offered to fulltime students ages 16 to 24 who maintain a minimum B average.  For homeschoolers, the student must be in the top 20 percent of a standardized test's national performance.
Student away discount:  Up to 10 percent if unmarried, youthful driver is living over 100 miles or more from vehicle.
Farm Bureau discount: Save up to 10 percent in certain states when you join the Farm Bureau, whether you have a connection to farming or not.
Defensive driving discount:  Can save up to 10 percent for completing an approved driver safety course.  In some states you must be over 55 to participate and receive a discount.
Accident prevention discount: Up to 5 percent if 55 or older and have completed an approved accident prevention course.
Anti-theft discount:  Nationwide offers discounts for factory-installed deterrents and, in some states, for aftermarket devices installed on your vehicle.  Savings vary based on the type of device installed and the state where your vehicle is located.
New vehicle: Up to 16 percent for insuring a vehicle made within the most recent five years (number of years can vary by state).
Passive occupant restraint discount:  Up to 30 percent off of your medical payments coverage if your vehicle is equipped with air bags.
Easy pay sign-up discount:  Save when you sign up for paperless billing and pay by electronic funds transfer. Up to $30 off when you sign up.
Terms with prior carrier: Up to 15 percent depending on number of terms with select prior carriers.
Long-term policyholder discount:  Up to 5 percent discount if insured with Nationwide for at least three years.  Up to 10 percent discount if insured with Nationwide for at least five years.
Advance quote discount:  Up to 5 percent discount if you get a quote at least eight days or more before the effective date of the policy.
Affinity car insurance discount:  Save up to 10 percent if you're a member of a partner business or organization.
SmartRide:  A usage-based insurance program gives you an instant 5 percent discount when you sign up.  You will get personalized feedback and a discount based on the miles that you drive, up to 15 percent.
Nationwide claims and contact information
Website: http://www.nationwide.com/
Claims telephone number: 1-800-421-3535
Twitter: @Nationwide
Facebook: https://www.facebook.com/nationwide
Mobile app: http://www.nationwide.com/mobile-support.jsp
Not all companies/options/discounts available in all states/situations. This description is an example and is subject to change. Verify all details before purchase. Logos, trademarks and service marks are owned by the respective companies represented on this web page.