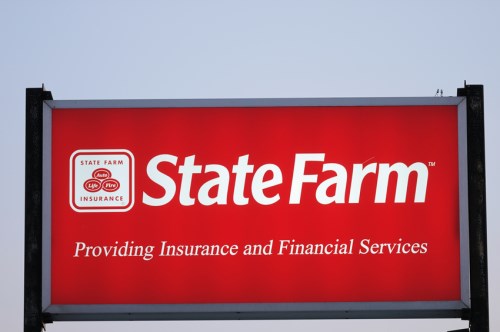 State Farm ordered to cut rates, refund $100 million
State Farm Insurance Company has been ordered to reduce its dwelling insurance premiums and refund customers who have overpaid.
The California Insurance Commissioner ruled Tuesday that the insurer must cut its rates by an average 7 per cent, amounting to $78.6 million for its policyholders.
"After considering the evidence and actuarial analyses submitted, I concluded State Farm's homeowner, rental and condo insurance rates are excessive," said Commissioner Dave Jones. "My order reduces State Farm rates an average of 7 percent, saving consumers $78.6 million annually and required refunds of more than $100 million in excessive rates collected since July 15, 2015."
State Farm had asked for an increase of 6.9 per cent but the commissioner determined that rates were excessive and ordered a cut of an average 5.37 per cent for homeowner insurance, average 20.39 per cent for renter insurance and 13.81 per cent for condo insurance.
 
Health insurers at risk from cyber attacks
The healthcare industry including medical facilities, health insurance agencies and healthcare manufacturers are showing vulnerability to cyber attacks.
That's the finding of a study by Security Scorecard which says that the sector's weakness comes from its professionals who may fall victim to 'social engineering', where they are manipulated into divulging confidential information.
"The low Social Engineering scores among a multitude of healthcare organizations show that security awareness and employee training are likely not sufficient," said Alex Heid, Chief Research Officer at SecurityScorecard.
The staff who are targeted may not immediately realize the significance of the information that they are disclosing, as it may not seem enough to allow a hacker to gain further access. However, Heid says that single contact is just the start of the process.
"Security is only as strong as the weakest link, and employees are often the lowest-hanging fruit when it comes to phishing, spear phishing, and other Social Engineering attacks. For a hacker, it only takes one piece of information such as learning the email structure of an organization to exploit an employee into divulging sensitive information or providing an access point into that organization's network."
Across the entire healthcare sector, Security Scorecard says 75 per cent have suffered a malware infection. Medical treatment centers (96 per cent) are most targeted by ransomware and medical equipment manufacturers (90 per cent) are most frequently hit by malware.
 
Global reinsurance intermediary receives prestigious accolade
Aon plc's global reinsurance intermediary Aon Benfield has received two awards from ACORD, the insurance-industry's global standards-setting body.
They were presented at an event in Florida and recognized the firm's leadership in developing and/or implementing the ACORD standards; and for assisting the body in its globalization initiatives.
"ACORD is pleased to recognize Aon for their contributions and overall commitment to improving effectiveness and efficiency across the insurance industry. We greatly appreciate and value their leadership efforts," commented Bill Pieroni, CEO of ACORD.