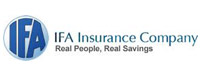 Quick Links

IFA Auto Insurance has delivered low-cost insurance to high quality drivers in Pennsylvania, Maryland, New Jersey and Delaware for 40 years, concentrating on legislatively mandated requirements and local nuances to offer customers the lowest possible rates while meeting the highest customer service expectations.
IFA Insurance Company claimed 0.02 percent of the private passenger auto insurance market as of June 2015, the most recent data available from data analyst A.M. Best. That makes IFA Insurance the 159th-largest auto insurance carrier among the more than 1,400 tracked by Best.
Types of coverage available from IFA Insurance
Offers auto policies in New Jersey, Delaware, Maryland and Pennsylvania.
IFA Insurance auto insurance discounts
Offerings can vary by state. Some features may be optional.
Defensive driver discount: For drivers who have completed a certified defensive driving course
Accident- and ticket-free discount: For drivers with clean records; free of motor vehicle points, tickets, and accidents
Anti-theft device discount: For vehicles equipped with anti-theft security systems
Safety device discount: For safety features including side airbags, ABS, or Electronic Stability Control, among others
Loyalty discount: For members who renew their car insurance policy with IFA
Good student discount : For high school and college students who maintain a high GPA
Group discount:  Automatic discount of 10 percent
Paid in full:  Pay in full and get a 7 percent discount.
IFA Insurance claims and contact information
Website: https://www.ifaauto.com/index.asp
Claims telephone number: 1.877.432.2277
Twitter: @ifaauto
Facebook: https://www.facebook.com/ifaauto
Mobile app: No
Not all companies/options/discounts available in all states/situations. This description is an example and is subject to change. Verify all details before purchase. Logos, trademarks and service marks are owned by the respective companies represented on this web page.