This is the second article covering Canada's top insurance companies. The first focused on Intact Financial (OTCPK:IFCZF) (TSX: IFC), Canada's largest home, auto and business insurer. On the Toronto Stock Exchange (TSX), there are two main type of Insurance Industries under the Financial Sector: Life and Property & Casualty Insurance. The focus of this article, Sun Life Financial (SLF), is a life insurance provider that should be recognizable to U.S. investors as they are dual listed, trading on both the NYSE and TSX.
To better compare the companies at the end of the series, I will analyze each company in a similar fashion with slight differences as appropriate.
Overview
Sun Life Financial provides a range of insurance, wealth and asset management solutions to individuals and corporate clients. It operates through five segments. The Sun Life Financial Canada segment provides retail insurance and investment advice, products and services to people across Canada. The SLF U.S. segment has three business units: Group Benefits, International and In-force Management. Its Sun Life Financial Asset Management segment consists of MFS Investment Management and Sun Life Investment Management. The SLF Asia segment operates through subsidiaries in the Philippines, Hong Kong, Indonesia and Vietnam, as well as through joint ventures and associates with local partners in the Philippines, India, China and Malaysia. Its Corporate segment includes SLF U.K. and Corporate Support. Corporate Support operations consist of its Run-off reinsurance business.
Sun Life is well diversified with no segment accounting for more than 40% of their net income. Likewise, Sun Life defines their business in two different business types (wealth and insurance), and once again, they are appear to be well diversified.

(Source: Company Fact Sheet)
Stock Performance
After trading sideways for the better part of 2014 through 2016, Sun Life finally experienced a leg up in late 2016. That being said, the stock has retraced from their November high, and year to date, the stock is down 8%.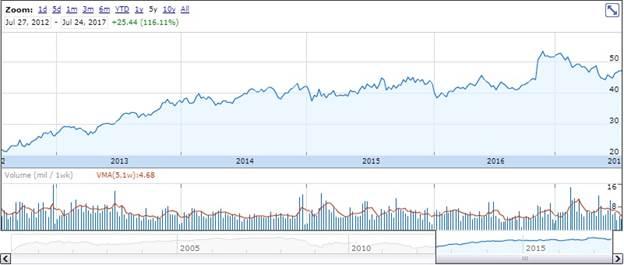 (Source: Google Finance)
Minimum Continuing Capital & Surplus Requirements
Unlike Intact Financial, Sun Life does not publicly post its combined ratio, preferring instead to publicize and focus on its Minimum Continuing Capital and Surplus Requirements (MCCSR) ratio. The MCCSR stipulates formal minimum capital standards that reflect the inherent risk in the company. In short, the MCCSR is in place to ensure the company can meet its obligations to its insurance and annuity policyholders. To be on the safe side, the Office of the Superintendent of Financial Institutions (OSFI) requires that insurers maintain at least 150% of the calculated MCCSR to meet its obligations. Most Canadian ensures far exceed this ratio, and Sun Life is no exception with a MCCSR of 229% as of end of Q1 2017.
Dividends
Sun Life Financial pays a C$0.44/quarterly dividend for a current yield of 3.67%. Their dividend appears to be well covered as their payout ratio is a respectable 43% of earnings. The company first began paying a dividend in 2000 and raised it every year until the financial crisis in 2008. From there, Sun Life kept their dividend steady through 2014, losing their status as a Canadian Dividend All-Star. The company only began raising dividends in 2015 and have since raised in 2016 and once again in 2017 with their latest earnings results. The company has a modest 3YR growth rate of 4% and a 1YR growth rate of 7%.
Price to Earnings (P/E) Ratio
One common approach to evaluating a company is to analyze its P/E Ratio. In short, the P/E ratio shows how much investors are willing to pay for each dollar of earnings the company generates. As you can see in the F.A.S.T. Graph below, Sun Life is currently trading significantly below their historical P/E average of 15.1 and thus appears undervalued. Prior to the financial crisis, the company traded relatively in line with historical averages but has since decoupled and has traded below historical averages. This is in part reflective of the low rate interest rate environment financials have had to deal with since the crisis.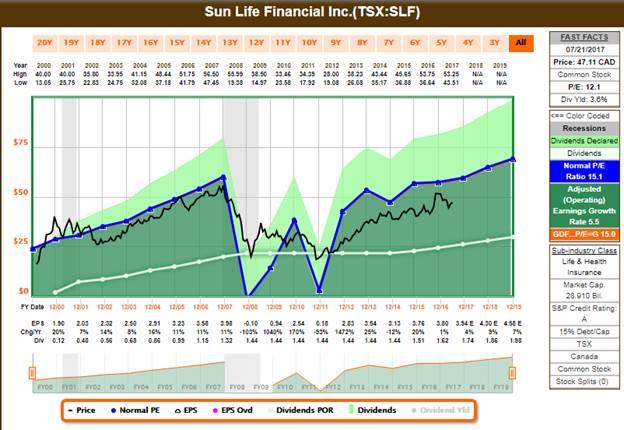 Price to Book (P/B) Ratio and Return on Equity (ROE)
Another common financial ratio that investors use to analyze insurance companies specifically is the P/B ratio. Typically, insurance companies present an attractive entry point and are considered undervalued when trading below book value and are considered overvalued when the P/B ratio nears 2.0. Currently, Sun Life is trading at a P/B of 1.4 which can be considered fairly valued.
Another tool that I use in conjunction with the P/B is the company's ROE, which measures the income level that the firm is generating as a percentage of shareholders equity. The higher the ratio the better and if an insurance company has a ROE of less than 10%, then the expectation is for the P/B ratio to be less than 1. Likewise, if the company has an ROE of more than 12%, than a P/B greater 1.0 may be justified. In the first quarter, Sun Life's ROE was a solid 11.5% which reinforces the notion that the company is fairly valued on a P/B basis when comparing against their ROE performance.

(Source: Company Fact Sheet)
PEG Ratio
I also believe it is important to evaluate a company based on future expected earnings using the PEG ratio. According to analysts' estimates over the next couple of years, Sun Life is anticipated to grow earnings on average by 7% through 2018. On the other hand, Sun Life is targeting EPS growth of 8-10%. If we were to use the mid-point of the analysts' estimates and their high-end target, their PEG Ratio can be calculated as follows:
PEG Ratio = (P/E) / Growth rate
= 12.1 / 8.5
= 1.42
A PEG ratio greater than 1 typically signifies that a company's earnings are not keeping up with its growth and as such can be considered overvalued. On the other hand, a PEG ratio lower than 1 typically means a company is trading at a discount to their growth rate and can be considered undervalued. Sun Life's PEG ratio is 1.42 and as such can be considered slightly overvalued.
STEADY BUT NOT SPECTACULAR
Shareholders who were lucky enough to first start a position in Sun Life in the years following the financial crisis have since been well rewarded. However, their stock performance has been mixed over the past few years with a relatively prolonged share price stagnation before the stock spiked and retraced once again. From a valuation perspective, the company looks fairly valued. Trading at a discount to their historical P/E has been the norm since the financial crisis and by the other metrics evaluated, the company doesn't provide significant value at these levels. The good news, is that the company is in much better shape financially than it once was and has renewed its commitment to raising dividends. In both 2015 and 2016, they announced 2 quarterly raises a year, and they are on track to do so again this year. The company has also shown renewed confidence and is targeting 8-10% EPS growth and 12-14% ROE and wants to maintain a strong dividend payout ratio.
If you would like to receive updates for any of my upcoming articles, please click the "Follow" text at the top of this page next to my profile.
Disclosure: I/we have no positions in any stocks mentioned, and no plans to initiate any positions within the next 72 hours.
I wrote this article myself, and it expresses my own opinions. I am not receiving compensation for it (other than from Seeking Alpha). I have no business relationship with any company whose stock is mentioned in this article.
Editor's Note: This article discusses one or more securities that do not trade on a major U.S. exchange. Please be aware of the risks associated with these stocks.