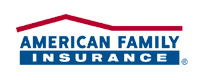 Quick Links

For more than 80 years, American Family Insurance has given its customers peace of mind by making their insurance experience easy and convenient. Agents strive to meet customers' unique needs by offering the right mix of American Family's auto, home, life, umbrella, business, health, and farm & ranch insurance, as well as retirement products. Located throughout 19 states, American Family's independent contractor agents serve as local, expert and trusted advisers.
American Family Insurance Group claimed 1.85 percent of the private passenger auto insurance market as of June 2015, the most recent data available from data analyst A.M. Best. That makes American Family the ninth-largest auto insurance carrier among the more than 1,400 tracked by Best.
What would make American Family customers switch?
We surveyed more than 4,000 auto insurance customers about how much they would need to save before switching from their insurance companies.
11% of surveyed American Family customers say they would never switch auto insurance companies (average of 20 major companies: 10%)
89% said they would switch for savings of $1,000 (average: 90%)
76% would switch for savings of $500 or less (average: 83%)
57% would switch for savings of $250 or less (average: 63%)
29% would switch for savings of $100 or less (average: 30%)
Types of coverage available from American Family
Offerings can vary by state.
Auto
Pay-as-you-drive plan: MySafetyValet
Motorcycles
Motor homes
Boats
Snowmobiles
ATVs
Homeowners
Renters
Condo
Mobile/manufactured home
Flood
Umbrella liability
Farm and ranch
American Family auto insurance discounts
Offerings can vary by state. Some features may be optional.
Accident-free discount:  In certain states, you're eligible for a 5 percent discount if you've insured your vehicle with American Family Insurance for three consecutive years without an accident. Auto customers who've insured with American Family for six years or more without an accident are eligible for a 10 percent discount.
Air bag discount: You're eligible for this insurance discount if your vehicle is equipped with factory-installed air bags. Discount rates range from 10 to 30 percent depending on the state.
Defensive driver discount: In certain states, you're eligible for a 5 to 10 percent discount if you meet specific age requirements and have completed an approved defensive driving course.
Early bird discount: May be eligible if you're an auto customer holding an active policy with another carrier and receive a quote from American Family at least seven days before it goes into effect. Discount percentages vary.
Good driver discount: Drive safely and save money, too. Drivers without accidents, violations or claims may be eligible for 5 to 10 percent discount.
Good student discount: Discount for student receiving a "B" average or above. Discount percentages will vary based on certain factors.
Time away discount: This auto insurance discount is designed for existing customers with drivers up to 24 years old, who attend school without the insured vehicles and are 100 or more miles away from their homes. Discount percentages vary.
Multiple-vehicle discount: If you insure two or more vehicles, you may qualify for a reduced auto insurance premium on your cars and trucks. Discount percentages vary.
Auto and home advantage: Discount for bundling home and auto insurance policies.
Steer into Savings Discount: If you come to American Family from one of its competitors, you could get a discount on your auto premium. Discount percentages vary.
My Safety Valet: Usage-based discount.  When you sign up, there is a 5 percent discount.  After six months in the program you may earn up to 30 percent discount, based on your driving performance.
Loyalty discount
Paperless discount
Low-mileage discount
American Family claims and contact information
Website: American Family Insurance
Claims telephone number: 1-800-MY AMFAM (1-800-692-6326)
Twitter: @amfam
Facebook: https://www.facebook.com/amfam
Mobile app: http://www.amfam.com/learning-center/my-coverage/mobile-apps.asp
Not all companies/options/discounts available in all states/situations. This description is an example and is subject to change. Verify all details before purchase. Logos, trademarks and service marks are owned by the respective companies represented on this web page.