American International Group (AIG) has greatly underperformed the broader market so far in 2017, as shares are down by 9% while the S&P 500 is up by 10% over the same period of time.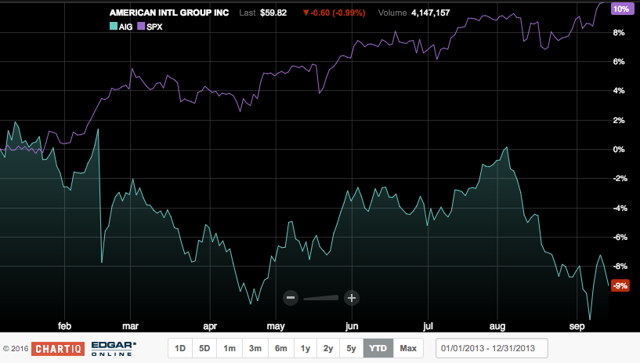 (Source: Nasdaq)
It is important to note that AIG shares have also underperformed the market over the last 1, 2 and 3 year periods. This underperformance has caused some investors to jump ship and look for greener pastures, but, in my opinion, it is actually a good time to start thinking about this global insurer being a great long-term investment.
The Recent Results Show A Turning Of The Tide
On August 3, 2017, AIG reported better-than-expected Q2 2017 earnings ($1.53 vs $1.20, a 28% beat) on revenues of $12.5B. Additionally, the company's Q2 2017 after-tax income was up ~33% YoY ($1.53 vs $1.15).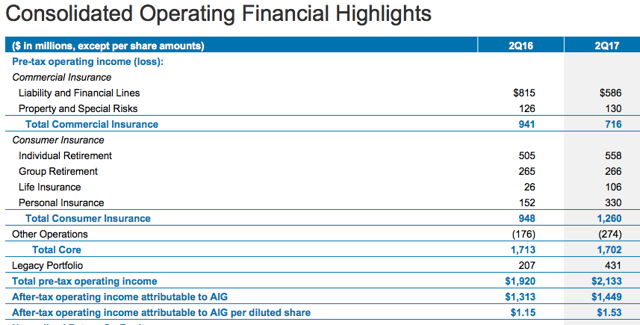 (Source: Q2 2017 Earnings Presentation)
A reduction in operating expenses (down 9% YoY) was a key driver to the quarterly earnings growth. Another important factor was the strong performance from the company's Consumer Insurance division, and more specifically the Personal Insurance ("PI") unit. The PI unit benefited from an improvement in operating efficiency and lower-than-expected loss activity. For the quarter, PI reported significant improvements in its combined ratios and Underwriting Income (up 187%).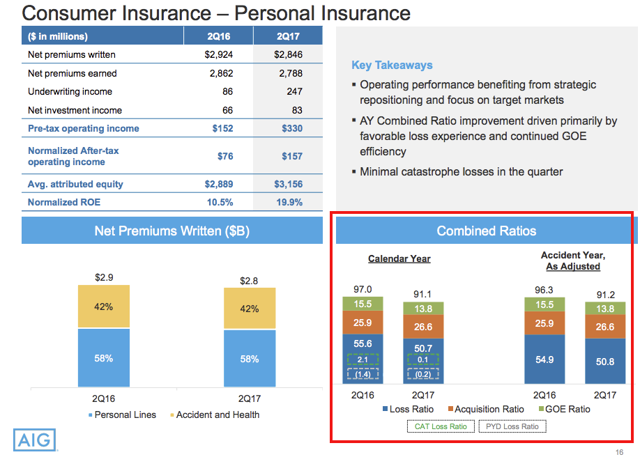 (Source: Q2 2017 Earnings Presentation)
This company is doing what is necessary during a period of time that has widely been labeled as "a challenging operating environment" so I believe that investors should be encouraged by what Mr. Brian Dupperreault (appointed CEO in early May 2017) has been able to do in such short order.
The Q2 2017 earnings are no where close to prior periods, but I would contend that this management team has made some great progress over the last year reducing core expenses and strengthening reserves.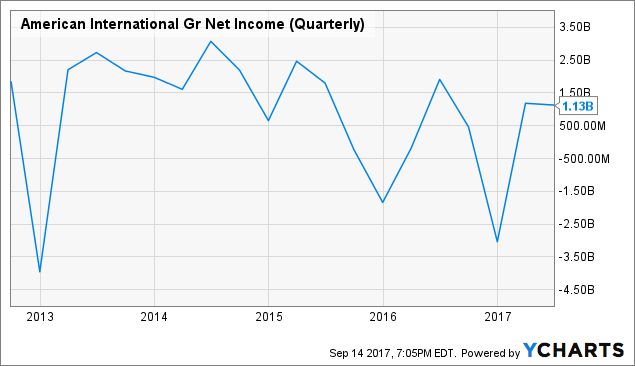 As shown, AIG's quarterly earnings (or lack thereof) have been all over the place. The what seems like non-stop reserve charges (or "adjustments") have plagued this company for years but it appears that management may have finally been able to put these under-reserved concerns to bed by entering into a reinsurance agreement with Berkshire (BRK.B) and taking substantial charges in the recent past. Only time will tell if AIG's reserves are now sufficient or not but my money is on Mr. Dupperrault and team righting the ship.
I believe that there are plenty of reasons to be excited about AIG at today's price, but, in my opinion, there are two main reasons to remain bullish on this global insurer as we head into late 2017: (1) the capital return story and (2) shares are trading at an attractive valuation.
(1) Capital Return Story
Mr. Duperreault previously communicated to shareholders that he intends to focus on growth instead of simply buying back shares, but I believe that investors should begin to bake in expectations for AIG to increase its dividend through 2018 and beyond. It helps that AIG currently pays a below-average dividend when compared to its peers.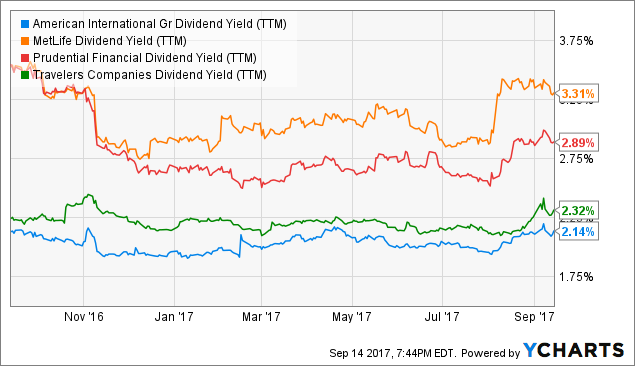 However, and more importantly, AIG has the wiggle room to increase the dividend in the quarters/years ahead.
Dividend
2017E Earnings
2018E Earnings
AIG
$1.28
$5.27
$5.38
Projected Payout
24%
24%
MET
$1.60
$4.78
$4.77
Projected Payout
33%
34%
PRU
$3.00
$10.13
$11.18
Projected Payout
30%
27%
TRV
$2.88
$7.64
$9.65
Projected Payout
38%
30%
Avg Projected Payout
31%
29%
(Source: Data per Yahoo! Finance; table created by W.G. Investment Research)
Some analysts expect for AIG to soon be paying an annual dividend of $1.33, which would represent an ~4% increase, but I anticipate for the company's dividend to be significantly higher than the current level over the next five plus years. In short, AIG's dividend growth prospects will be enough to create a floor in the stock price.
(2) Trading At An Attractive Valuation
This is nothing new, but AIG shares are trading at a steep discount to its peer group.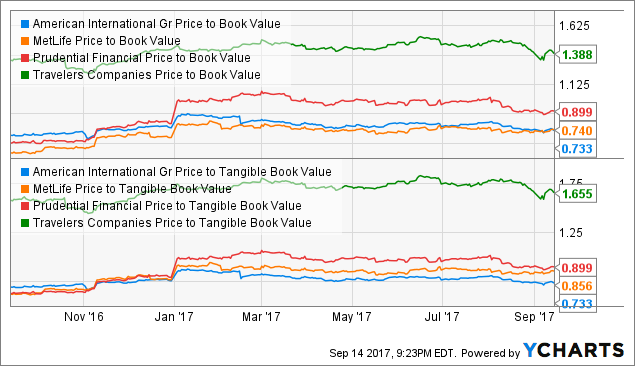 AIG has shown the ability to grow its book value (and adjusted book value) over the last few years, and both are up significantly on a YTD basis.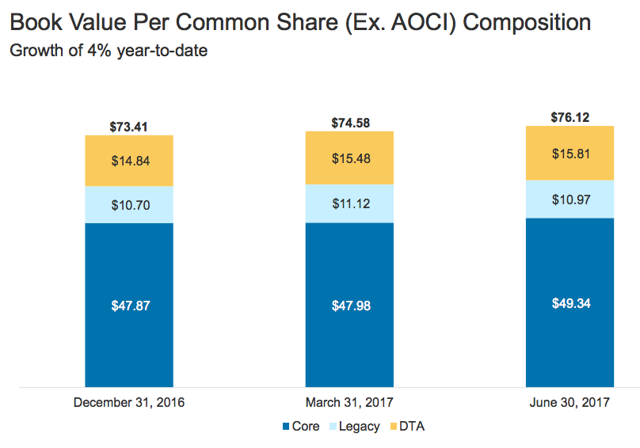 (Source: Q2 2017 Earnings Presentation)
AIG will not all of the sudden start trading at a valuation more inline with its peer group but I believe that the company is laying the necessary groundwork that has the potential to positively impact investor sentiment. If this happens (i.e. improves sentiment), AIG shares will be trading in a significantly higher price range over the next 12-18 months.
Risks
The recent storms – Harvey and Irma – are likely going to negatively impact AIG's earnings over the next few quarters. To this point, it is projected that AIG has ~$31B of exposure to the locations affected by Hurricane Irma.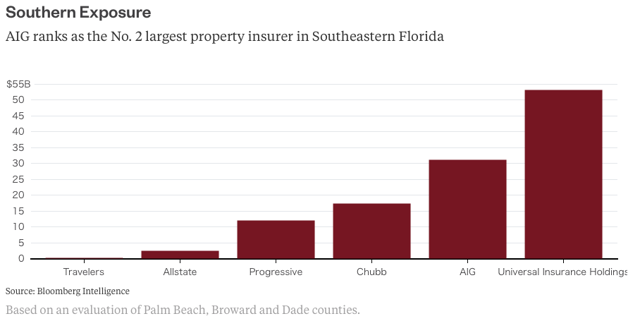 (Source: Bloomberg L.P.)
While I believe that AIG will have to shell out large sums of money, this company is well-positioned to weather the recent storms (pun intended). As such, the recent hurricanes should not keep AIG shareholders up at night, of course, in my opinion.
Bottom Line
There are plenty of other reasons – expense management, change in regulatory environment, additional asset sales, etc. – to like AIG at today's price but, in my opinion, the capital return story and the current valuation are enough to propel the stock price higher. Additionally, not mention in the article is the potential for AIG to soon rid itself from the Systemically Important Financial Institution, or SIFI, designation, as described in this article, which may turn out to be a significant catalyst for this company.
I am not expecting for AIG shares to make a major comeback and outperform the market in 2017, but, looking out three-to-five years, I think that investors will be richly rewarded for picking up shares at today's level. Therefore, long-term investors should treat pullbacks as buying opportunities.
Author's Note: I hold a sizable AIG position in my R.I.P. portfolio. I recently sold my AIG shares and put most of the money in AIG Tarp Warrants.
If you found this article to be informative and would like to hear more about this company or any other company that I analyze, please consider hitting the "Follow" button above.
Disclaimer: This article is not a recommendation to buy or sell any stock mentioned. These are only my personal opinions. Every investor must do his/her own due diligence before making any investment decision.
Disclosure: I am/we are long AIG.
I wrote this article myself, and it expresses my own opinions. I am not receiving compensation for it (other than from Seeking Alpha). I have no business relationship with any company whose stock is mentioned in this article.